Who doesn't love a good old avocado on toast?  But sometimes it's nice to switch things up so here are 5 tweaks you can make to this popular dish using our products:
---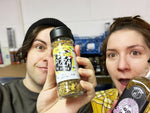 It's like picking a favourite child. Kind of horrible but a fun thing to think about (?) Not sure, however we both had a deep hard think and here are the results. (Correct as of March 2022 - who knows what amazing products we will release in the future!) Jen: 'Not going to lie it was really hard to narrow it down to this product. I probably use All The Ranch the most and it is a firm fave but deep down my super favourite is probably Bella Muerte. It's our newest sauce currently and a bit left field. One...
---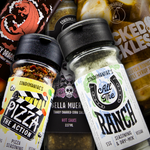 Look, we love condiments. Like seriously - LOVE them. So much that we ended up accidentally starting a business making them. Over the years, we've released quite a number of products so we obviously can't use them all every day anymore, but we thought it might be interesting for you to know which are in our heavy rotation and how we use them! Warning - we are obviously heavily biased :) 1. Pizza The ActionIt's quite strange. We ummed and aahed a while about even releasing Pizza The Action because we were worried people wouldn't understand the product and think...