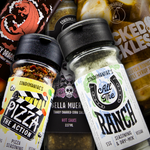 Look, we love condiments. Like seriously - LOVE them. So much that we ended up accidentally starting a business making them. Over the years, we've released quite a number of products so we obviously can't use them all every day anymore, but we thought it might be interesting for you to know which are in our heavy rotation and how we use them! Warning - we are obviously heavily biased :)
1. Pizza The Action
It's quite strange. We ummed and aahed a while about even releasing Pizza The Action because we were worried people wouldn't understand the product and think it's just basil and oregano (which some people do think, to be fair, but it's a far smaller number than we thought!). Overall it is quite a simple product, but it hits just right and is quite versatile. We use this almost daily - sprinkled on a cheese toastie, improve tomato sauces, in baked beans, sprinkled on pizzas (yes!) or even to spice up a salad dressing. Luckily it comes in a 140g refill pouch, as the shakers don't last long enough for us...
2. Smokey Dragon
Our OG sauce - again, quite simple and not a sauce to reinvent the wheel, but the 2 Great Taste Award stars aren't there for nothing. It just goes with a lot of every day foods like toasties, wraps, burgers, hotdogs, to give a little spice to tomato or pepper sauces. It's not too spicy so you can really douse your food in it and it also doesn't have such an overwhelming flavour that it overpowers dishes. It's lightly smoky and mostly just fresh and full of tomato flavour. 
3. All The Ranch
Cannot eat Pizza without this - we always mix ours with Hellmann's Vegan Mayo (just the best ready made one we find) and a splash of unsweetened soy milk. We have a little dish with made up Ranch dressing in our fridge pretty much at any point and use it wherever creamy sauce is needed - wraps, salad dressing, burger, sandwich. As a seasoning it doesn't get as much use to be fair - usually on chips but it shines as a dip. Yum.
4. Bella Muerte
One of our newer products - it's a super mild one made with tonnes of charred sweetcorn, lime juice and coriander. It loves anything Mexican naturally, especially fatty dishes. We swear there is no better dip for a quesadilla than Bella Muerte. Also great with Nachos, Burritos, Fajitas, but also on burgers and even hot dogs or on a sandwich instead of relish. 1/2 of us (Jen) actually doesn't like coriander but even she loves Bella Muerte. 
5. Wicked Pickles
Not a permanent fixture as we can't always get a hold of fresh pickling cucumbers, but when we do have them, they don't last a day in our house. Crunchy, thick and sweet these get snacked as they are, put on sandwiches and hot dogs and they just disappear. They're again quite simple as they're mostly just sweet pickles made with maple syrup and scotch bonnets and no other super strong flavours, but they're not too spicy, not too sweet... just right, hence why we made them in the first place!

And that's our top 5. We of course have all our products around the house and in the fridge and we use them all, but these are the ones that we always seem to run out of. For example a bottle of Flying Fox lasts ages with us as we have to taste test it as we make a batch and that really puts you off wanting to have it at home. Always underestimate the heat for that one - it's HOT. Séance is the same, once in a while one of us will put a lot in a wrap and immediately regret it as it's actually spicier than thought. If you have to eat a lot of spicy things at work, you tend to try and take it easy at home - at least that's true for us. 
Which of our products are your most used?