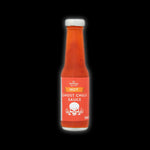 We've all bought something that said CAUTION EXTRA HOT with a skull symbol or 5/5 chilli peppers on the packet just to find that it's merely a bit warm. Soooo disappointing – why do the big shops do that? 
Price is the answer... as well as spice tolerance of the public. Average Joe isn't a chilli head so what's a little tingle to us is a heat challenge to most people, therefore big companies go lower on the heat as it's more agreeable to the general public and costs them less money (both hot peppers and extract are expensive resources). 
To save you from disappointment we have made this handy list of sauces that you can find in the big supermarkets and are actually, kind of spicy (medium to pretty hot). 
M&S  Extra Hot Chilli

 - Medium spicy with a nice front kick. Full review 

HERE

.

 

Morrison's Ghost Chilli Sauce

 – Hot but probably one of the worst hot sauces we've ever tasted – Full review 

HERE

.

 

Mahi Scorpion and Passion Hot Pepper Sauce 

– Medium hot, a little thin but tasty enough. link to full review – 

HERE

. (Also check out their 

Carolina Reaper and Pineapple

 and 

Bhut Jolokia Pepper

 sauces that look promising from the ingredients lists)

 

Sainsbury's - Scotch Bonnet & Habanero – 

Medium hot, very vinegary and devoid of much flavour, nice instant heat though. 

 

Sauce shop – Habanero Hot sauce

 – very straight up 

flavour

 but does bring the classic hab-heat. Also check out their Habanero Ketchup, which is 60% habaneros...

 

Encona

 – Carolina Reaper – 

Really nice 

flavour

 actually! Not quite as hot as artisan reaper sauces but 

exciting. Their

 classic West Indian Pepper sauce is also 

pretty nice

 for the price and packs a punch.

 
Most of these may not quite hit the mark if you're looking for top quality (though some are actually really solid, the supermarket offering is certainly getting better and better as more craft brands enter the scene) but either way, if you need your spicy fix and need it now, then these may just be the fix from the shop down the road.  
Feel free to share your finds with us too!