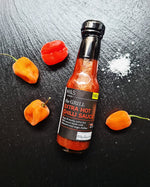 HOT SAUCE REVIEW - It's time again to look outside our own bottles and see what the scene has to offer. We stay informed and you get to discover new sauces. Next up is @marksandspencer Extra Hot Chilli Sauce (Review by @kierkemp)
_
Rating: ⭐⭐⭐⭐ Heat:🔥🔥🔥Origin: National, UK.
_
👁 It's a pretty simple 160g bottle. This is classic M&S own brand. It's kind of fine but not very imaginative and nowhere near what some of the artisan sauce brands produce label wise. Then again it's like £2 so....
_
👃 It smells like smoked paprika mostly, kind of like BBQ sauce. I'm not really detecting much in the way of heat but it's pleasant and sweet.
_
👅 It claims to be "Sweet, Smoky and Extra Hot". It definitely deliverers on the first two of these things. It's very familiar tasting, like an old friend. You get an instant little kick from the habs which quickly morphs into that up front BBQ flavour. It's a sauce most people would enjoy but by no means is it 'extra hot'. It has a nice kick and some build from the nagas but not a face melter. Pretty pleasant. This feels more like a pretty spicy BBQ sauce than a straight up hot sauce.
_
👭 Pairing wise this is an all rounder. There's some lovely ingredients in here and it's cool to see habaneros and nagas used in a supermarket sauce. From wings to bean burgers if you'd have BBQ sauce with it I'd just exchange that for this.
_
🍕It's a good dipper. Little bit of cheating because of the Xantham gum but it adheres and is smooth and satisfying.
_
Generally this is well balanced, decent quality and delicious. Albeit a little misleading on the heat front but it is so hard to accurately describe heat due to its subjectivity. We actually recently wrote a blog about that so if you haven't read that yet, check it out!