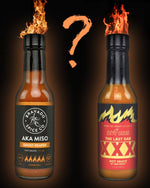 Even the hottest hot sauces can still be packed with flavour, finding them however can be a challenge! You see the problem with super hot sauces is that in order to get that level of heat you have to either a) use extracts (Boo) or b) make the recipe almost entirely peppers.
This can work but it's an artform. Let's explore some of the brands that have this artform nailed! (In no particular order)
#1 Shart – Reaper Sauce
We've featured our Swedish friends a few times and with good reason. This was one of the first super hot sauces that was sent to us to for review and it didn't disappoint. Sweet and earthy it tasted like it was made with good quality ingredients and the balance was very good considering the heat.
#2 Culley's - Brutality
Culley's have their own version of a super hot sauce ominously called 'Brutality'. Produced in New Zealand the sauce manages to create a balance and exciting heat that's rarely found in sauces this hot.Definitely worth a try.
#3 Dawson's - Heatonist no.1
Made to celebrate the one-year anniversary of the tasting room at the world famous Heatonist shop in New York city this sauce interesting uses the Sichuan Pepper corn for flavour and Ghost Peppers for heat. It describes itself as 'floral, complex and full bodied' however the recent reviews seem to suggest the latest batch may have fallen short of the mark.
#4 Condimaniac - Flying Fox
We'd be kidding ourselves if we didn't include our own take on a super hot. Flavour is always first for us and in making Flying Fox we aimed to combine the savoury satisfaction of Sriracha with a cutting citrus hit that made it exciting. It uses Carolina Reapers, Habaneros and Serrano peppers, so of course it's HOT too.
#5 Marie Sharp's - Comatose Habanero
The hottest sauce in the Marie Sharp's range but as with all of their products still focused on natural quality. The flavour comes from fresh locally grown habanero peppers to Beleaze and that freshness and natural flavour is very much still alive in this sauce.
#6 Bravado – AKA Miso Ghost-Reaper Hot Sauce
This sauce was new to me but came highly recommended on reddit, so I needed to put it in. Vegan, gluten free (like most hot sauces) and according to them EXTREMELY spicy. Leave us a comment to share what you think if you've tried it!
#7 Torchbearer – Garlic Reaper
Garlic and super spice seems to be a match made in heaven and this sauce is no different. The artwork is playful but don't be deceived this guy packs both heat and flavour in droves. Just look at the amazon reviews to see how well loved it is.
#8 The Last Dab XXX
The most famous sauce on the list for sure. Created by the infamous Hot Ones series (First we feast) it used the new and rather dangerous 'Pepper X' to get it's heat. Rumoured to be the hottest pepper in the world but unconfirmed (At the time of writing) as it seems to be exclusive.
#9 Wiltshire chill farms – Reaper Habanero
Another sauce that was graciously sent to us for review. We described this as "S&M in a bottle" if I remember rightly. Pleasure and pain all at the same time. The heat is delayed but don't be fooled, it will reach you and you will suffer.
#10 Crazy Bastard Sauce – Carolina Reaper and Blueberry
Hailing from our friends in Germany this sauce is definitely one of the most innovative about. It hot sure, but what's not expected is just how well the sweet edge of blueberries goes with the intense heat and flavour of Reaper chillies. It's a brilliant match and a brilliant sauce.
So that's it! Our list of some amazing VERY hot sauces that also ooze flavour. Now you know what you're looking for remember to explore our range and help us find your flavour!