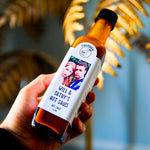 Hot sauce - a firm favourite amongst dads (and mums, too). The selection here in the UK is definitely growing with more and more artisan brands launching.

But you know what's even better than some awesome hot sauce? Custom-made, personalised hot sauce that is guaranteed to be a show-stopping gift. 
We launched this service in 2020 and this is how it works:
Choose one of 6 base flavours (Tomato, Carrot, Pineapple, Mango, Bell Pepper, Red Chilli)
Select one of 3 vinegar options (Apple Cider, White Wine or Rice Wine)
Choose up to two supporting flavours from a selection of 4 (Mustard, Ginger, Garlic, Onion)
Now you're the master of the heat - choose up to three of the 8 hot chillies we currently offer (Carolina Reaper, Naga, Jalapeño, Red Bullet, Scorpion, Ghost, Scotch Bonnet, Habanero)
Nearly there! Next you'll pick the character, so spices and herbs. You can choose up to five of the 10 we have! (Coriander leaf, Curry, Smoked paprika, Cumin, Mint, Basil, Thyme, Cinnamon, Chinese 5 Spice, Cayenne Pepper)
And last but not least, for 50p each you can choose as many special extras as you want from the choice of 7 we give! (Maple Syrup, Lime Juice, Grapefruit Juice, Chipotle Flakes, Miso Paste, Truffle Oil)
We've made it as customisable as possible, so there's hundreds of combinations (Check out THIS BLOG for some inspiration) and we're always adding new options, too. On top of a totally custom made hot sauce, we also let you upload an image and choose a custom name for no extra cost. 
Want it gift wrapped? No problem, for £1.50 we'll take that task off you as well. 
If you think the fun part is putting the sauce together in the first place, why not gift a voucher from us so your dad can go through the process himself and make a sauce especially to his liking? Comes in a cool envelope too.