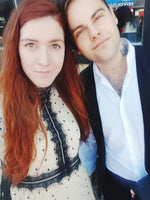 We were having a chat this morning about feeling bad for sending lots of emails. We don't send as many as some brands (you know the ones) but still, we value your time and want every communication we send out to be valuable. Then something dawned on us... 
Many of you don't know who 'WE' are... and getting emails from strangers is the worst. 
So, naturally the answer to this problem is to write a blog and send ANOTHER email 😂  and here it is. 
WE are Kier and Jen. The founders of Condimaniac Limited. It's Kier writing this. 
Some facts about us & the business: 
It's only us two right now. From production to marketing to packing orders, we do it all, so if you've ever emailed us or commented on social media and someone replied, it was either me or Jen.

 

We're based in Medway, Kent but first started Condimaniac in South London

 

We both work part time in marketing (in different industries) and spend all our free time in our commercial unit making our sauces and seasonings and growing our little brand.

 

We started the business kind of by accident. I mean we didn't accidentally register with Companies House, but it wasn't supposed to be a business when we started. We just loved condiments and decided to review them on Instagram – We've actually started a whole podcast about our journey that you can listen to here if you are interested in the whole behind the scenes of running a food business:

 
Some things we like...
Kier (me) likes: 
Beer (not craft beer or anything cool, I like lager. Mainly Stella)

 

Music (I've have been and still am in bands)

 

Astronomy (not to be confused with astrology)

 

The Witcher 3 (I know I'm late to the 

party

 but I don't really do computer games, this has been awesome in lockdown)

 
Jen likes: 
Gin (She's a bit more classy)

 

Music too (She works in music, this is how we met)

 

Our dog Tate (I like him too but she's the responsible one)

 

Animal Crossing (Also late to the party but hey, better later than never)

 
As well as that I guess we want this to be a thank you. Building this business has kept us sane in a weird time for the world and we love making things for you. Every little mention we get, or someone that shares our stuff really puts a smile on our face and seeing a community of like-minded Condimaniacs grow around us has been super cool! 
So THANKS. Thanks for being on this list, thanks for checking out our stuff, and thanks for supporting a small business. You've changed our life forever. 
Loads of Love 
Kier (and Jen, but mainly Kier)