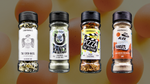 Our main mission here at Condimaniac is to bring you the tastiest condiments. Over the last year we've noticed that some of our customers are incorporating our seasonings into their keto diets, so we wanted to highlight some of them on this blog.
First off, what's a keto diet? Keto is short for ketogenic, and it's basically a low carbohydrate, high fat diet. The aim is to bring the body into a state of ketosis.
This is where the body does not have enough carbohydrates to burn, resulting in the burning of fat instead, which can be desirable for weight loss and maintenance. 
The diet/lifestyle has been popular for a while, especially in the USA, but has come over to the UK in recent years as well and is gaining popularity every day. There are many different adaptations and levels of a keto diet, but the main condition for a food to be keto-friendly is that it has to be low in carbs.
Now, let's look at some of our seasonings that would fit in well with a keto diet!
1. The Good Bagel & The Bad Bagel seasonings

Made predominantly of sesame seeds, this blend is the perfect addition to a keto diet. 13g of carbs per 100g, so that's 0.1g per 1g serving.
2. All The Ranch - UK Ranch seasoning and dressing mix

Sprinkle on food or mix with full fat sour cream, Greek Yoghurt of Mayonnaise and some milk to make an indulgent, full-flavoured dip. 23g of carbs per 100g, so that's 0.2g per 1g serving. 
3. Blue Bandit - UK Blue Cheese seasoning and dressing mix

An American classic made vegan, this can be mixed with mayo and milk just like our Ranch to make a creamy dip or dressing for salads. 32.9g of carbs per 100g, so that's 0.3g per 1g serving. 
4. Pizza The Action - Pizza seasoning
Perfect to mix with anything tomato-y to create that signature Pizza flavour - sprinkle on a low carb cheese pizza for example. 37.2g of carbs per 100g, so that's 0.3g per 1g serving.