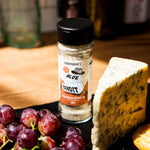 Blue cheese dressing is hugely popular, especially in the USA. It's creamy, rich and tangy with that characteristic, slightly bitter taste that the mould of the blue cheese provides. 
Of course, blue cheese is a dairy product and whilst a few brands have released vegan blue cheese dressings, we haven't found one that's really convinced us. In addition, we haven't been able to find a vegan blue cheese seasoning. 
As Condimaniac has already got a vegan Ranch seasoning and dressing mix as part of the range, we were up to the challenge to try and make a convincing blue cheese seasoning mix that's 100% plant based.
Boy did we underestimate this one!
Without succumbing to artificial flavours and the likes, it's actually really difficult to come up with something that's both rich and also has that right tangy bitterness. We experimented with a large variety of ingredients, trying to find the perfect mix that would evoke that blue cheese flavour. After months of trying out things, tweaking the recipe and taste testing what feels like thousands of different ingredients, we think we nailed it. 
Now, just like actual blue cheese, this one will be somewhat of a marmite product. Some of you will love it like we do, others will absolutely hate it. And that's okay. In general, if you like blue, mouldy cheeses, give it a try. If not, then maybe this is one to skip. We will release other stuff don't worry :)
What does it go with you ask? Salad, as a dip for (cauli)wings, pizza, on a burger, with some celery sticks... the options are vast.
Let us know what you think on socials (@condimaniac everywhere)