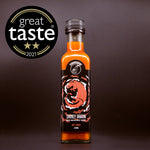 We've always known our products taste great... of course. But the Guild of Fine Food has kindly certified it by giving Smokey Dragon and Kyubi Awards in this year's Great Taste Awards. Smokey was awarded 2 stars and Kyubi 1 star. 
We're extremely happy and now have 5 stars in total under our belt (last year, both Siren's Island and Séance each got 1 star).
The Great Taste Awards are internationally recognised awards, judged by foodies to make it easy for shoppers to identify seriously yummy products.
For 2021, only 18 other hot sauces were awarded 2 stars so we are extra chuffed.