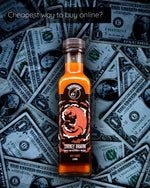 Buying food online can be a pain, especially if it's new. You can't taste it or smell it and then there's the problem of shipping. It's often almost as much as the item! But when there's still so many hot sauces still to try there must be a solution? Let's explore the best ways to get a good deal online.
Go directly to the producer
Going straight to the source has a lot of benefits. You guarantee quality, get personal service but most of all you cut out the middle man. This means there's no mark ups for the commission imposed by the market place and you should get a better price. Winning.
Buy a selection box or gift set
In the UK at least 2kg is the limit for small parcel shipping. This is the cheap/expensive line for most small producers (A small parcel is 3.10 a medium parcel is 8.99) This means that buying a few sauces, maybe as a gift, may be the way to go. At Condimaniac one of our best sellers is our gift set as this falls nicely below that threshold and you get a decent amount of sauce! 
Make a night of it
P.A.R.T….Y? Because I gotta! 
You don't just have to eat lovely hot sauce on your own. The growing trend of hot sauce parties and challenges made popular by hot ones has showed the world that hot sauce can make any social event, AND you can eat the rest afterwards. So gather some friends together, buy some hot sauce in bulk online to save on shipping and then share the spoils once the night is done. There are loads of great places to buy hot sauce online, try Hop Burns & Black or Bauce Brothers in the UK, Heatsupply in the Netherlands and Heatonist in the US.
Hit the free shipping threshold 
As a producer there comes a point where you've made enough profit on a sale to warrant offering free shipping. Most places online will therefore offer free shipping over a certain amount, the sweet spot seems to be about £40. Now this may seem like a lot but for £40 you can get around 6 or 7 hot sauces! That's a pretty decent haul if you get through a lot OR a really lovely gift for a few chilli head friends.
Join the producers mailing list
Any producer worth their salt will have a mailing list, all you need to do is find it (Ours is in our footer). Once on this list producers and market places want to keep you, the customer, engaged and so you'll often find that coupon codes are shared exclusively with this list. Worst case scenario you can unsubscribe but anyone that's doing things right should be sending you a mix of decent content and offers, so it's usually not a bad idea. So that's it people. A few quick tips on how to get make buying hot sauce online a little cheaper, or at least better value. We hope it helps, people like you are keeping the dream alive for small producers all over the world. Keep daring.