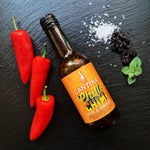 HOT SAUCE REVIEW - It's time again to look outside our own bottles and see what the scene has to offer. We stay informed and you get to discover new sauces. Next up is @cantinauk Chilli Chimi (Review by @kierkemp)
_
Rating: ⭐⭐⭐⭐ Heat:🔥🔥 Origin: London, UK.
_
👁 I reviewed the original a year or so ago and the bottle is still beautiful. Lovely design and they've gone to the effort of adding some texture to the label which gives it some real class.
_
👃 The smell of this is so enticing. Think rich olive oil with a sour tinge and then heaps of fresh herbs. Topped off with a good dose of garlic. Makes you want to try it.
_
👅 This sauce isn't going to be for everyone but I love it. It's a very fresh and layered flavour, starting with that rich olive oil and then quickly turning the attention to the herbs. The oregano particularly stands out as it gives a really savoury edge to the sauce that's moreish. The heat is delayed but provided a nice little kick to keep you excited. I actually prefer this to the original version!
_
👫 This screams BBQ to me. Cover whatever you're grilling in this, leave it to steep and then flash grill it to bring out all the amazing flavours in those herbs.
_
🍕 It's a chunky number but in the same way you get chilli oil on an Italian restaurant, this dips brilliantly. In fact pizza is another good shout for a side with your sauce.
_
A brilliant take on a sauce with a lot of cultural significance. These guys have put a lot of love into their sauce.