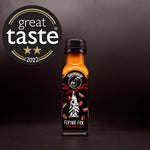 This was our third year entering and luckily for us also the third year in a row that our products got awarded the coveted Great Taste Stars. 
I'm sure most of you will have seen these stickers on products in supermarkets, farm shops and online. The Great Taste Awards are probably the most established food awards in the UK and thousands of products are entered each year. It's not easy to be awarded, so it's always exciting when results day comes around. 
This year we feel extra lucky as our Flying Fox Super Hot Sauce was awarded not one, but two Great Taste Stars, making it one of only seven this year to get two stars in the hot sauce category. It's the second product in our range to achieve two stars as last year, Smokey Dragon managed to snap them up. 
But that's not all for 2022. Bella Muerte also got awarded 1 star and so did Kimchi Pickle. 
Which means ALL our hot sauces are now award winners. Wow. 
Before I go, here is an excerpt from the judges' feedback for Flying Fox, just because it's so great:
Elegant in its heat, with developed complexity. We loved how this straddled the line between garlic and chilli with pin-point precision. A lengthy flavour full of nuance, the finish is bright and long without being all about heat. An exquisite example of its kind. 
Which products should we enter next year?