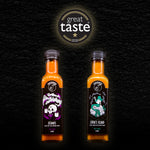 There's a lot of hot sauce out there. Some of it is amazing, lots of it is pretty average and as a small business it's tough to cut through the noise and stand out in that crowded market. 
Our journey started by reviewing sauces purely for the love of it back in 2018 and It didn't take long to get bitten by the bug and move into experimenting ourselves. Fast forward to 2020 and we're just getting to the point where we feel we've established ourselves enough to submit some of our products to The Great Taste Awards.  
It's hard to miss the Great Taste logo on products throughout supermarkets and shops here in the UK. Buying luxury foods can be scary as you usually have to pay a premium; it's tough to know if the product will live up to expectations. What these awards do is give products a seal of approval so that shoppers can make their decision safely in the knowledge that at least a few people who know what they're doing think it's delicious.  
We submitted three of our sauces (Smokey Dragon, Séance and Siren's Island – Kyubi wasn't released yet and we weren't sure if Flying Fox was the right type of sauce for non-sauce-fanatics to try...) to the judges back in Feb 2020 and what followed were months of nervous waiting, hoping that our belief in our own products may just be validated by professionals. 
On September 21st 2020, the results went live and … the site crashed. No results to be seen. After a while we were pretty sure we didn't get anything but then we finally see our results and jump around the room in joy because two out of three of the sauces that we submitted had received stars.  
 
One star means "simply delicious"  
Two stars means "outstanding! Above and beyond delicious"  
Three stars means "exquisite! wow! taste that! Extraordinarily tasty foods"  
There are only 65 products in the hot sauce category that have been awarded this year, of which two got 3 stars, 13 got 2 stars and the other 50 got 1 star. 
Whether or not you win any stars, your products will receive several critiques from the judges, so that's interesting reading either way!  
This is what they had to say about out entries (Word for word, we've not edited this): 
Séance - 1 Star
"Sweet aroma from the tomatoes and some smokiness. Quite a fruity mouthful and welcome freshness which continues hand in hand with the chilli heat. This is a well-made sauce with all elements working in harmony." 
"Tomato and fruity aroma. Chunks of tomato register first on the palate, followed by developing heat. Fiery but balanced." 
"This rich-looking deep orange sauce has a lovely vibrant tomato aroma. It pours well and is fairly smooth with just occasional seeds and flecks of spices. The tomato base is pleasingly fruity rather than sweet and it has a good level of acidity too. The chillies provide both fruitiness and heat. The use of other spices is delicate but support a pleasing arc of flavour." 
Siren's Island – 1 Star
"Appealing bold colour from the turmeric. The toasted cumin flavour dominates making it an earthy sauce with a little bitterness. It gives a gradual heat. The fruity sweetness is not distinctly mango." 
"Very deep, pleasantly fruity smell. The appearance was a nice orange flecked with chilli pieces. It coated the mouth well. The heat built up nicely but the mango was not prominent at all and felt overshadowed by the turmeric. Inviting, but it needed more mango." 
"This is very curry-influenced, from the curry aroma to the distinctive taste of the spices (particularly the turmeric and cumin - both properly cooked down and not at all raw). There is not much mango on the nose, but the fruit comes through sweetly on the palate, and stays right to the finish. Essentially this is a fruity mango curry sauce, versatile and not too hot for even the most sensitive consumers." 
Smokey Dragon – No Stars (Yet)
"On the nose this sauce delivers all that it promises - tomatoes, garlic, paprika and unmistakable smoky notes from the chipotle chillies. It has a glorious rich and vibrant colour. The heat is much more restrained than the aroma would suggest and it falls slightly short in terms of flavour. A tiny bit more sweetness and acidity would make this sing." 
"All the promised ingredients on the nose - smoke, sweetness, heat. On the palate, all ingredients register and are reasonably well-balanced between sweetness, smoke and heat but it's lacking a certain something to make it special. Some said it needed more acidity." 
"A good hit of smoky flavour in this hot sauce makes for a lingering aftertaste and a warm finish. It feels a little heavy on the vinegar." 
And that's it. Just like getting a gold star as a primary school kid we were recognised. Getting a Great Taste Award isn't the be-all-and-end-all but it's a great start to our journey. One that we're super happy for you guys to come along on. 
We'll be re-entering Smokey Dragon next year alongside Kyubi and maybe even Flying Fox.  
To taste what we created, just check out our store or if you have any questions, feel free to drop us an email.