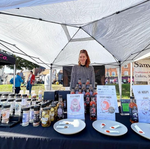 Hey, nothing against markets - we've done the odd one and we're actually doing one this year (shoutout to Hot Sauce Society in London), but I was thinking yesterday that Condimaniac really did not grow the way condiment brands usually do.
I don't know if you get many small business ads, but I do - I guess because I have my own one and I follow lots of others, but when it comes to sauce and seasonings brands, the ads usually show the founders behind a market table with a little stand and the caption will be something like "We started our brand 10 years ago from our home kitchen, selling at our local farmers market every weekend until we outgrew our house..."

And that's cool. I've seen so many ads and posts like this now and it only just occurred to me that Condimaniac has not followed this proven formula. 
I just had a think and as far as I am aware, since 2019 Condimaniac has done exactly seven markets. 

Instead, we've been an e-commerce brand from the get-go. I guess that's partly because Condimaniac was never meant to be a business; it was just a little hobby, reviewing condiments online, but over time we started thinking we could do a decent job ourselves now so we did.
As we already had somewhat of an audience, we didn't need to grow an in-person following at markets, we'd already done that online. 
So, what does this mean? I'm not sure, but I feel like it's significant in some way to our journey.

Online since day one and it's kind of indicative of where we're headed. We don't envision our brand to be one that's going to be in every supermarket, that's not what we ever wanted as it would mean compromise on flavour and quality.

We see Condimaniac first and foremost as an online business selling direct to customers and that's the journey and experience we are striving to improve. 
Sure, we have a few stockists and we love supplying independent businesses, but we do so on our terms so we can ensure our products don't have to compete with big box store own brands in a race to the bottom.