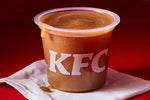 The best part of any takeaway experience will always be the dips. Pizza is just a delicious vehicle for scooping up loads of sauce and kebabs are like little boats designed for storing chilli and garlic. 
But which fast food chains have really nailed their selection? And out of those selections which reigns supreme?  
This is our list of the best sauces and dips brought to us by the illustrious fast-food establishments of the UK. The only rules are that it has to be their own recipe (not another brand that's been re-packaged) and available to buy regularly through-out the year. 
#6. Papa John's Special Garlic Sauce
The marmite of the pizza dip world. Love it or hate it, it does what it says on the tin and tastes like garlic butter but stays at the perfect consistency. It's a rich flavour and can easily put you off but for some reason it has you coming back for more.  
Good news. You don't need to wait to order pizza. You can try your hand at making your own with THIS RECIPE. 
#5. KFC Gravy
The British classic, re-invented by the US for consumption with your fried chicken. It's salty, it's moreish and yeah... it's fatty AF. Chip shop or take-away we just love chips and gravy here, so in our book this is ok. 
Regardless of its tastiness however, some people were less than impressed at how it's made following the 'inside KFC at Christmas' episode on Channel 4. You can find out more HERE 
#4. Dominoes Tangy Salsa
Sweet, tangy and oddly wholesome. This salsa is one of the more 'real' dips on our list and you can tell by the taste. It resembled a pizza sauce but just put in a pot. Maybe that's what it is but we're not complaining. According to Cosmopolitan it's also one of the healthiest things you can order at Domino's. Who'd have thought! 
#3. Subways Southwest Sauce
As far as selection goes in store subway has to be the winner. With a great variety of Sweet, creamy and spicy sauces it's hard not to just say "all of them" when you're asked which to choose.  
Some geniuses online have also worked out the 'do it yourself' recipe and put it up online. So you don't even need to go to a store to give it a try! 
#2. Nandos Garlic Peri-peri 
You can't talk fast food and sauce without giving Nando's a mention. They've cornered the market when it comes to commercialising their sauce and the entire range is hugely popular. However we've gone with the straight up garlic peri-peri. It's hot enough and the extra garlic hit just seems to work with all the other flavours beautifully. 
#1. McDonalds Sweet Curry Sauce
Now we're very aware that giving the number one spot to McDonald's might be controversial but hey, we like to live dangerously. This stuff isn't gourmet and it's definitely 90% sugar but sometimes, that's exactly what you need on your salty fries. 
If you're obsessed with this stuff like we are it's actually very similar to the traditional German gewürz ketchup, just the German one is spicy. You can buy it on amazon if you're keen to get that hit at home. 
So there it is. Our list of the best fast-food sauces in the UK, in order of awesomeness. Be sure to get in touch and let us know your favs too. Happy to expand the list if we agree.