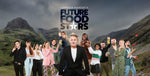 When the email from Studio Ramsay about applying for Season 2 of Future Food Stars went into our inbox at the beginning of 2022 I wasn't interested. Season 1 hadn't aired yet and I'm naturally suspicious of the TV industry.
Kier on the other hand loved it, he'd long been thinking about taking part in something like this.
Also, Kier and I are very different people. I met him at a photoshoot (I was an intern at a photo studio) for his band (he was doing an introducing shoot for Kerrang!). So he's very in front of the camera, I am very behind the scenes. 
When I watched him fill in the application form one evening on our sofa I said "You're going to get on this show. I just know it."
"The chances are low", he said.
Well. Here we are, over a year later and what do I tell you? He did get on. 
We now have a date for when episode 1 will air and it's Thursday the 30th of March at 9pm on BBC One and iplayer.
So I guess you and I will just have to watch and see how it went. :D 
Jen