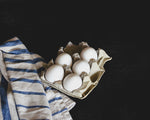 Dieting can be boring. Endless Kale, quinoa and cauliflower with nothing decadent in sight.  Every single meal should be special and delicious but when we think about dieting sometimes it can be hard to do what's right for your body without sacrificing flavour.  
Problem solved. We spend most of our time trying stuff so you don't have to. You could just have salt on your boiled broccoli sure…OR you could try one of these beauties.  
 1. 
Bell peppers, cream cheese & everything bagel seasoning
If you use TikTok you might be familiar with this craze but if you haven't, get with it! It's decadent but doesn't make you feel bloated and it is great if you're following the keto diet. Just get a raw bell pepper, cut into 4 or so pieces and spread some cream cheese in the little recess.  
Secret sauce: Sprinkle with everything bagel seasoning. It gives the snack a lovely roasted and savoury flavour that will have you addicted. (If you're brave try our bad bagel too, it's got a chilli kick!) 
 2. 
Devilled
 eggs and hot sauce
One of America's favourites. Devilled eggs are like boiled eggs just loads nicer.  
The premise is simple, hard boil eggs, scoop out the yolk and then mix with yummy (and usually spicy) things like mayo, mustard, bacon and chives. Then scoop that mix back into the cavity that the yolk lived in before. 
Secret sauce: If you like it extra-hot, try mixing in our flying fox hot sauce. It's got loads of garlic in it so as well as having a kick, tastes amazing when mixed with the yolks.  
 3. 
Keto cauli wings and ranch dip
Cauliflower bites are friggin' delicious and really easy to make keto if you're on a low-carb diet. To make them you can just follow our recipe here and just replace the conventional flour for an almond flour. It will be just as delicious and a great vehicle for scooping up loads of lovely sauce! 
Secret sauce: Mix up a nice blue cheese dip or try some of our All The Ranch dressing. It's 100% vegan and just as naughty as your standard Ranch. 
So there it is! Three naughty AF snacks that are perfect for a low-carb or keto diet. All allowed to shine because your mix in some awesome sauces and seasonings.