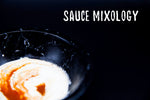 Much like drinks or cocktails sometimes you mix two sauces together and it makes something completely new and even more awesome. Experimenting at home is part of the fun if you love condiments so here's a few classic combinations that we love. 
Mayo & hot sauce
Why: Perinase is a thing for a good reason. It's delicious. Add hot sauce to mayonnaise (or that delicious Hellman's vegan version) and mix it up. It comes out a fun pink colour and gives the mayo a bit more bite as well as this delicious umami to compliment the creaminess. We'd recommend our Smokey Dragon for this as it's got a subtle BBQ flavour that gives it a whole other dimension. 
Goes great with: Chicken and hand cut chips. 
Top tip: Add a touch of salt & pepper to make up for the dilution of the hot sauce. 
Ketchup & curry powder
Why: Curry ketchup is a thing, particularly in Germany. In the same way that curried beans are awesome, spicy curry ketchup just elevates the UK's most loved condiment to new heights. The sweet tanginess of the sauce melds perfectly with the earthy spice mix giving it a complexity you're not usually used to with Tommy-K. 
Goes great with: Currywurst sausages and anything that's barbecued.   
Top tip: I know it sounds mad but add a little extra sugar. The one in Germany is super sweet and it just works. 
Marmite & cream cheese
Why: Marmite and cheese were always meant to be together. Marmite have now cottoned on and are making some pretty fun products but you don't need to wait for them to make you own at home. Marmite and cream cheese together make an all together different but very satisfying spread that's creamy but with an irresistible salty edge. 
Goes great with: Bread (in a toasty) or on raw bell peppers with some everything bagel seasoning. 
Top tip: If you've got a little blender just chuck a bunch in and wizz together. You won't regret it. 
Honey & mustard
Why: Honey and mustard is a well-known combo within cooking and salad dressings, but it also makes a banging dip. Mustard hits the sour and spicy notes whilst the honey balances that all with a sweetness that's also full of natural flavours. If you're vegan agave nectar works just as well! 
Goes great with: Grilled salmon or salty meat like gammon (or bacon substitutes). 
Top tip: Dijon mustard works best for this. It's got the perfect balance of sourness and kick. You can also try different kinds of honey. 
Think of this as a kind of starter-guide to mixing your sauces. There's a whole world of flavour out there and we'd love to hear what you've come up with too. So if you have a moment please share your creations with us on insta or by email.