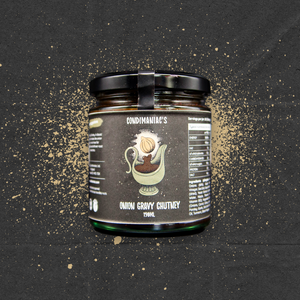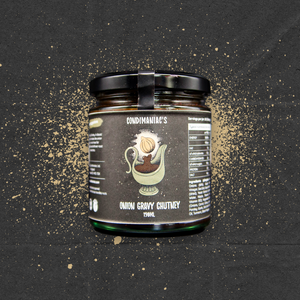 On Sale
Condimaniac Onion Gravy Chutney
Do you like Onions? Do you like Gravy? Do you like Chutney? Well, we have just the thing for you!

Introducing... Onion Gravy Chutney. A classic chutney but it tastes like onion gravy. 
A must-have for the cheeseboard and leftover roast sandwiches. 
It's savoury, it's sweet, it's festive. 
Ingredients (allergens in bold): Onions, Sugar, Red Wine Vinegar, Sea Salt, Sage (dried), Thyme (dried), Yeast Extract (contains Salt, Water, Niacin, Thiamin, Folic Acid, Vitamin B12), Vegetable Stock Paste (Onions, Carrot, Celery, Leek, Fennel, Parsley, Garlic, Salt, Extra Virgin Olive Oil, Turmeric, Black Pepper). 
190ml