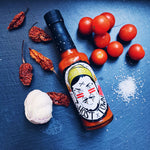 Rating: ⭐⭐⭐⭐ Heat:🔥🔥🔥🔥 Origin: Gloucester, UK.
_
👁 The bottle looks great. I'm in love with the custom printed tamper evident seal at the top. It's those little touches that really set a product apart from a hobby at home operation. He still hand-bottles these too, which is impressive.
_
👃 It's not got a particularly strong aroma. I'm getting the Bhut Jolokia peppers for sure. Along with that I think is a decent amount of sweetness.
_
👅 The tongue confirms what the nose thought. This sauce goes HEAVY on the sugar but it's lovely. Sweet and spicy are a match made in heaven. There some decent seasoning in there too and I'm getting a good amount of garlic. It does feel a little one dimensional though, nothing mental in here but a lovely hard hitting heat and good balanced flavour makes me think this would be the kind of sauce I'd keep coming back to.
_
👭 I think the flavour opens itself up to all sorts of applications. Sweet, savoury and hot does well with meat for sure but also rice dishes, so lots to work with. The heat will pose a challenge though as this does really assault the senses.
_
🍕 It's a tiny bit on the smooth side but the sugar means it will stick well to anything.
_
A great go-to sauce for someone that has a high tolerance and needs to remind their taste buds to get excited.